Published May 6th 2014 by HarperTeen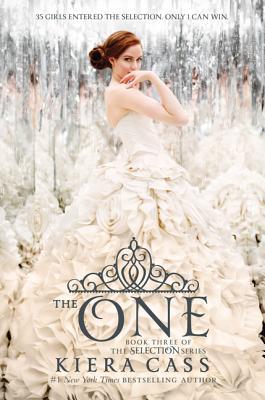 The Selection changed America Singer's life in ways she never could have imagined. Since she entered the competition to become the next princess of Illéa, America has struggled with her feelings for her first love, Aspen—and her growing attraction to Prince Maxon. Now she's made her choice . . . and she's prepared to fight for the future she wants.

Find out who America will choose in The One, the enchanting, beautifully romantic third book in the Selection series!
When this book came out, I had three of my students at my door the next morning asking, "DID YOU GET IT?" I was (admittedly) confused because I didn't know what they were talking about. Again, I was late getting to this amazing novel (sorry again), so I didn't have it with me. They were not happy. One went and bought it that afternoon, read it, and then shared it with the others. I had let them down. :( They forgave me though as long as I promised to read this series first in my summer reads and I did!!

As many recommendations as I give to my students, they give me just as many good ones!!
The ending of this series could not have had more drama, nail biting action, and eyebrow raising moments I don't think. Just when I thought I knew how it was all going to go down, it was all turned upside down and rolled around. When a novel can keep you on the edge of your seat, you know it is a great one. This amazing conclusion did just that. I loved this series from start to finish and hate to see it end. I will gladly have this series displayed on my shelves first thing next year and already have some kiddos in mind who I know will love it!
Make sure to check out Kiera Cass on her website to find out more about her and her books.
Happy reading!