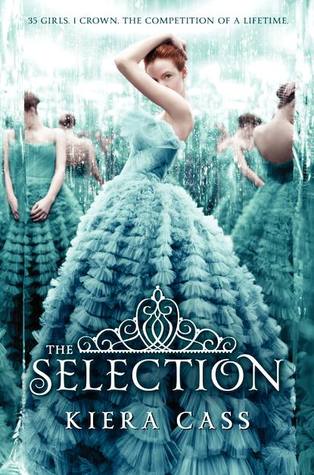 Published April 24th 2012 by HarperTeen
For thirty-five girls, the Selection is the chance of a lifetime. The opportunity to escape the life laid out for them since birth. To be swept up in a world of glittering gowns and priceless jewels. To live in a palace and compete for the heart of gorgeous Prince Maxon.

But for America Singer, being Selected is a nightmare. It means turning her back on her secret love with Aspen, who is a caste below her. Leaving her home to enter a fierce competition for a crown she doesn't want. Living in a palace that is constantly threatened by violent rebel attacks.

Then America meets Prince Maxon. Gradually, she starts to question all the plans she's made for herself—and realizes that the life she's always dreamed of may not compare to a future she never imagined.
I have a dedicated group of girls who have been after me to read this series, and I don't know why I have been putting it off.

There is no good excuse. First of all, this is from the mind of a local gal and I love supporting my local authors. Secondly, I have no secondly.... I am just sorry I waited this long to start them. But at the same time, if it was during school I wouldn't have been able to read them so fast.
America Singer is a girl that most can relate to. She is happy where she is even though she knows that life could be much better if she was in a different situation. She loves Aspen and is happy to be where she is despite the negative things that seem to get in her way. Her seemingly content life totally changes though with the announcement of The Selection. Now she faces a whole new struggle that isn't so private because she is on camera fighting for Prince Maxon's affection- if she really wants it or not is another issue.
This book is the start to an amazing series. I was hooked from the beginning and didn't stop for the next two days... seriously.... I read the whole series in two days!! To say that I liked it would be an understatement. One good thing about not reading them when they came out is that I didn't have to wait until the next book came out. I just had to either run to my shelf (because I had them in my classroom library.. I know, shameful) or hit "download" from Amazon... which I totally did! This is another great series to add to my list of recommendations!